BK BioReactor wins First Prize!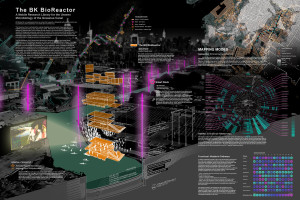 NBW's submission The BK BioReactor: A Mobile Research Library for the Unseen Microbiology of the Gowanus Canal wins First Prize in Gowanus By Design's Axis Civitas competition. Project will be included in a public exhibit and presented to agencies and local elected officials to help influence the city's effort to rezone the Gowanus neighborhood.
'Gowanus by Design is pleased to announce the winners of our recent design competition 'Axis Civitas'. A jury consisting of New York City architects, landscape architects and planners invested in the future of the city met in the Lower Manhattan offfices of Rogers Partners to discuss and judge the many eligible entries. The competition drew entries from as close as Brooklyn and as far away as Australia. The healthy diversity of design propositions was evident by their thorough research, data mapping, and field station solutions.' - Gowanus by Design
Visit bkbioreactor.com to keep abreast of forthcoming developments.
*​